February 19, 2021

Virginia now has a single place to go to sign up for Covid vaccines:
If you do not have internet access, Virginia has a call center available. Click this link to learn more: :
January 28, 2021

COVID 19 Vaccination Information Links:
https://www.centrahealth.com/coronavirus
https://www.vdh.virginia.gov/central-virginia/
July 15, 2020
We've made some important upgrades for safety that have allowed us to resume pulmonary function testing. Though coming to the office may be a little different than it used to be, it's safe to come see us. We have the ability to do virtual visits as well. It's important to keep your respiratory system healthy; stay in touch!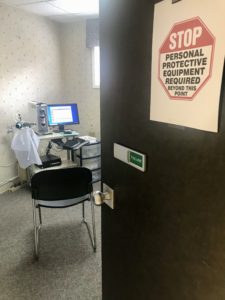 Providing our patients with the best level of care is our top priority, which is why we have created dedicated spaces to serve our patients while keeping them safe.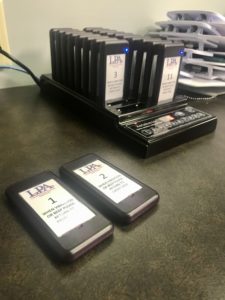 Our paging system has allowed us to reduce patients in the waiting room by having patients wait safely in their vehicle.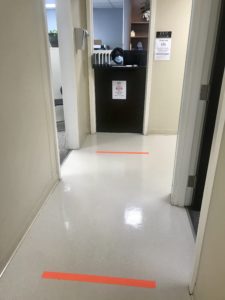 Social distancing reminders are all throughout our office as well as team who if fully trained on the protective measures to keep our practice safe.

March 31, 2020
As you might imagine, as specialists in lung diseases including infections, we at LPA have been a little busy lately. We are getting a lot of phone calls at the office and our staff who answer them are pretty overloaded, so please bear with us as we all work through this together. Understand that not everyone has all the answers right now and that some of the answers will change from day to day as new information emerges. Because the phone message system is overwhelmed, it may take longer than usual to return your calls.
To answer some commonly asked questions:
• Yes, we are still open. If you have an appointment with us, we will plan to see you. We are implementing some screening procedures in the office and you will be asked about recent illness or fever.
We now offer the option to change your usual appt to an secure, online video meeting with the doctor ( what we call telemedicine). This can be done easily on your phone or laptop. This visit will be billed to your insurance the same as would a more traditional office visit. Medicare and insurance companies have agreed to cover this remote office visit just like a typical office visit due to the current epidemic.
• Our office is not equipped to see patients who may be sick with the new COVID-19 virus (fever, cough, other symptoms of chest infection). We don't have the right isolation capabilities in the office building. We can direct you to appropriate resources in the community for testing.
• If you already have a procedure scheduled with one of our doctors, we are still planning to do it unless you have specifically been contacted to reschedule it. If you get sick, you should call us to reschedule it.
• It is OK for you to go to work if you are not sick. If you have chronic lung disease or are at risk for infection for other reasons you should use appropriate precautions. If your employer offers the opportunity to work remotely you might wish to explore that with them. We are not able to write notes excusing you from work if you are not ill.
Thank you all for working with us to keep our community as healthy as it can be!
The staff at Lynchburg Pulmonary